June 8, 2009
Statue returns to Johns Hopkins @ Eastern
The Good Shepherd Statue returns home to Waverly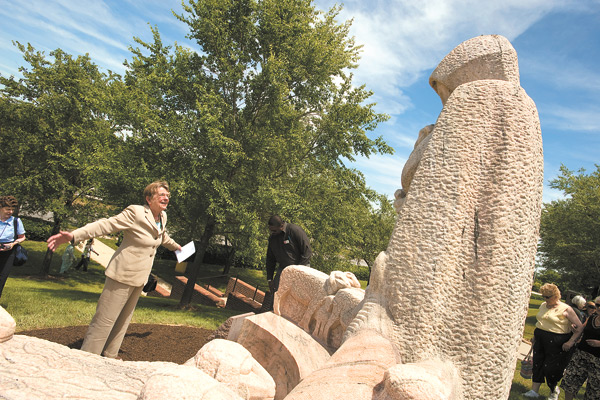 City Councilwoman Mary Pat Clarke welcomes the Lizette Woodworth Reese Memorial–also known as the Good Shepherd Statue–back to its home in Waverly.
The piece was rededicated June 1 on the Johns Hopkins @ Eastern campus, where it had been originally installed, 70 years ago, at Eastern High School. After the school closed, the statue was moved to the merged Lake Clifton-Eastern High School and rededicated on June 1, 1987.
Its return last week was choreographed by the Eastern High Alumnae Association, which raised $20,000 for the effort and garnered support from Clarke, the city's Commission for Historical & Architectural Preservation and Johns Hopkins officials. The statue of a shepherd and lambs honors an 1873 graduate of Eastern and a line from a poem she penned that said, "Come every helplessness and every dread … a shepherd is at hand …" It is the work of Reese's friend, sculptor Grace Hill Turnbull.