June 22, 2009
Poe's 'Tell-Tale Tour' stops at Homewood
What was Baltimore like back in Poe's day? Find out by taking "The Edgar Allan Poe Tell-Tale Tour" of Baltimore. (Click for story)
Edgar Allan Poe wrote his first horror stories in Baltimore in the early 1830s. What was Baltimore like back then? Find out by taking "The Edgar Allan Poe Tell-Tale Tour" of Baltimore as history museums throughout the city host special exhibitions and events through Sept. 30.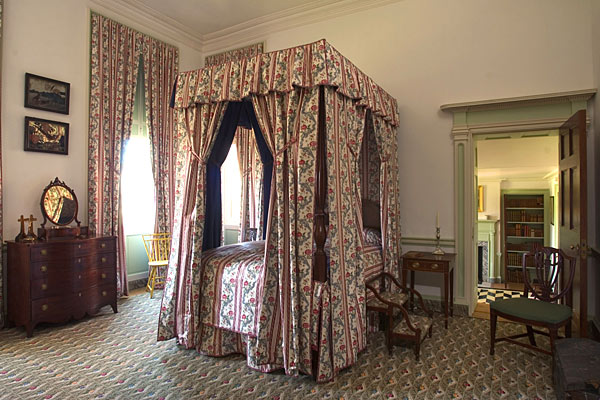 At Johns Hopkins' Homewood Museum, visitors can view the house's elegant rooms and fashionable furnishings through the eyes of Poe on a tour called "The Macabre Aside: Poe on the Philosophy of Furniture." This special supplement to the regular museum tour draws from the master of the macabre's satirical essay "The Philosophy of Furniture," in which he describes the horrors of American decorative shortcomings.
While Poe's creative imagination spun out garish extravaganzas of color and form, his own personal taste seems to have favored cleaner lines. Museum guides and interpretive labels located throughout the house will invite visitors to judge Homewood's historic rooms according to Poe's "humorous" theories of interior design, and imagine how Poe might have transformed these spaces into scenes of horror in one of his classic tales of domestic terror.
"The Macabre Aside" is being offered as part of regular guided tours, which depart on the half-hour, 11 a.m. to 4 p.m. Tuesday through Friday, and noon to 4 p.m. Saturday and Sunday (last tour at 3:30). A similar version of the tongue-in-cheek tour will be offered at Mount Clare Museum House (www.mountclare.org).
"The Edgar Allan Poe Tell-Tale Tour of Baltimore" is organized in association with Baltimore's year-long Poe festival, Nevermore 2009, organized by the Greater Baltimore History Alliance and the Baltimore Area Convention & Visitors Association.
For more on Nevermore 2009 events, go to www.nevermore2009.com.