August 3, 2009
Enrollment spikes at Homewood
Despite economy, yield is higher than expected for incoming class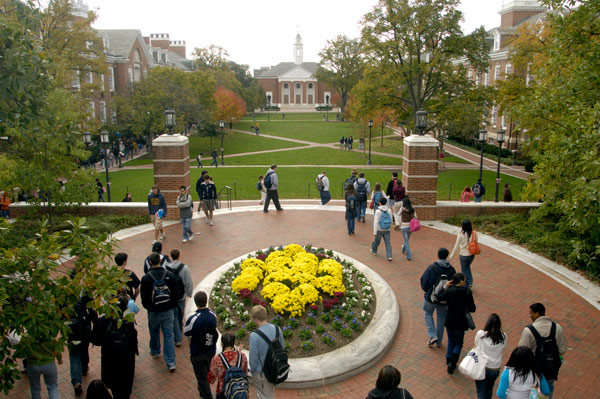 In face of overwhelming economic uncertainty, it seems the university may have underestimated its appeal.
Despite projections to the contrary, the incoming Homewood undergraduate class of 2013 will be significantly larger than expected, a reality that has prompted university officials to respond in a variety of ways to meet student needs.
Johns Hopkins officials, like colleagues at many other elite private colleges and universities across the nation, expected a lower than normal yield (the percentage of accepted students who enroll) because of the economy. A recent survey by the National Association of Independent Colleges and Universities reported that a third of U.S. private colleges expected freshman enrollment to decline more than 5 percent in the 2009–2010 school year.
Admissions officials at Johns Hopkins thought that the university would face stiffer than usual competition from relatively cheaper state schools and from universities with large endowments that could offer more financial aid. In preparation for the drop in yield, the university, like many of its peers, admitted a higher number of students.
The yield, surprisingly, increased.
"I continue to be floored by this," said John Latting, dean of undergraduate admissions. "The extraordinary thing was that the yield even went up for the group who didn't apply for financial aid. Despite the economy—which, for many, meant losses in income, savings and/or assets—they still felt an education at Johns Hopkins is well worth the investment."
Specifically, the class shot up to 1,350—115 students past the target mark of 1,235. (Last year's entering class had 1,238 students.)
The increased enrollment has created a number of logistical challenges. To deal with these issues, Paula Burger, dean of undergraduate education, convened a committee that included representatives of various academic departments and the offices of Student Affairs, Undergraduate Admissions, Academic Advising, Residential Life, and Housing and Dining Services. To date, the group has met in its entirety four times, and members have been in constant contact with each other.
One of the most pressing issues: Where will all the students sleep?
The university immediately went in search of extra housing options. First, it fully leased the Hopkins Inn, a bed-and-breakfast lodging located on St. Paul Street, an action that created spaces for 62 students. The hotel has since been outfitted with a seminar room, student lounge, fitness room and common kitchen.
"The Hopkins Inn will also have appropriate security personnel and Residential Life staff, so it will in essence become another residence hall," Burger said.
The university also reopened Rogers House, located on Greenway, a student apartment building that had been closed for renovations. Burger said the space can house 20 or more students.
With still more spaces needed, letters were recently sent out to juniors and seniors who live in campus housing, telling them that if they wished to move off campus that the university would assist them with housing deposits and vouchers for furniture.
In addition, Burger said that some triple rooms will have to be created in existing housing facilities, an option that will provide a cost savings for those who wish to participate.
On the academic front, the university examined the roster of freshman-friendly courses to look for possible pressure points. To avoid a registration crunch, new sections of many popular gateway courses, such as Introductory Chemistry I and Calculus I, were added, as were 10 small seminar classes.
"We wanted to ensure that the students have the academic experience that they expect in coming here," Burger said. "We've had very fine cooperation from all the departments, and I can say with conviction that we have addressed this issue comprehensively. In fact, registration has gone particularly well, the smoothest it has in a while."
The committee is also looking into dining hall use but doesn't expect any increased congestion, especially once students settle into classes. Burger said that the only action taken so far has been to add extra card-swipe machines to some dining facilities.
Burger said that the large freshman class will not likely have a discernible impact on move-in days, scheduled for Aug. 28 and 29.
Latting said that the large incoming class could have implications down the road, too, but for now the university is focused on the upcoming two semesters. "We need to consider housing capacity next year for when they become sophomores, but we have time to plan for that," he said.
As to whether having all the extra students is a good or bad thing, Latting certainly falls on the positive side.
"These are remarkable, outstanding students, and we are very glad to have them," Latting said. "It says a lot that so many, even those who need to make some sacrifices, want to come here for the great education offered."
As to why the yield was so high, Latting said that the prevailing stereotype of Johns Hopkins as an intense place where students work hard likely had a positive impact.
"These students have big plans for life after college and realize what a competitive employment landscape is out there. This is all part of the new narrative for how people are looking at college now. The economy is pulling us in this direction," he said. "It's no longer a matter of where to spend the so-called best four years of your life. Many students want to get serious. This is working for us. So is our brand and reputation, the substance of the experience that you get here."
But is Johns Hopkins ready to accommodate all these scholars?
"I feel really good about where we are," Burger said. "We have done a lot of planning. We want all our efforts to be seamless to both the students and their parents."
Homewood is not the only JHU location where undergraduate enrollment is up: The incoming Peabody class is the second-largest in 20 years. Peabody will have 300 students coming in the fall. The typical class size is about 250, with the largest ever at 303, according to James Dobson, Peabody registrar.
Dobson said that the class's larger-than-expected size is likely due to Peabody's being more aggressive in awarding financial aid. He said that the school is pleased about the larger class and doesn't expect it to cause any strain, but to accommodate the extra students it has added sections of certain classes.
At the School of Nursing, the incoming class size falls within the projected range. Officials anticipate approximately 120 students.