August 31, 2009
Preparing for the arrival of students—and the H1N1 virus
When it comes to how to mitigate the H1N1 flu at Johns Hopkins, the writing is on the wall—or, actually, the posters and hand sanitizer are.
With the return of students and flu season, the university and the Johns Hopkins Office of Critical Event Preparedness and Response, or CEPAR, have issued renewed calls for precaution and vigilance to minimize the impact of H1N1 outbreaks on Johns Hopkins campuses.
Medical experts predict that H1N1, previously referred to as swine flu, will intensify during the fall and winter since it has remained active during the summer. The virulence of H1N1, by most indications, remains relatively low. Most patients suffer mild symptoms, comparable to those of seasonal flu. Though some patients become seriously ill, most recover quickly and without complications. However, the threat remains that the virus could mutate and become more virulent.
To help safeguard the Johns Hopkins community, staff and faculty from across the divisions have invested many hours this summer in planning for what seems an almost inevitable resurgence of H1N1 cases. One group has met weekly to help the Provost's Office craft a comprehensive universitywide flu action/response plan. It includes contingency plans for both students and employees, and covers both the situation where the H1N1 remains relatively benign and the event where it mutates into something more virulent.
The plan, currently under review by senior administration and the Council of Deans, will be released soon.
To date, the general message to students, staff and faculty has been to act responsibly and protect themselves and others from infection. Colleges and universities across the nation have taken similar stances.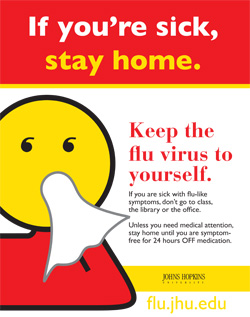 At Johns Hopkins, the first visible manifestations of this H1N1 awareness campaign have been a series of posters—displayed in hallways, restrooms, cafeterias and other public places—that remind people to stay home if they're sick and to practice good hygiene, such as covering their mouth and nose with a tissue when coughing or sneezing, and washing hands with soap and warm water for a minimum of 20 seconds. The posters, crafted by the university's Office of Marketing and Creative Services, are available for download at flu.jhu.edu, the univeristy's H1N1 information center. Some divisions have produced their own H1N1 fliers using materials from the Centers for Disease Control and Prevention or other sources.
Divisions are also making hand sanitizer readily available in many public places, such as outside elevator doors and in food halls.
Earlier this summer, a broadcast message went out to students from Scott Zeger, interim provost and senior vice president for academic affairs, asking them to take necessary precautions to limit the risk of spreading infections. For example, if students become ill with flulike symptoms once on campus, they are asked to go to the student health center serving their school or campus and not to go to class, a laboratory, the library, a dining hall or other public place where they might expose others.
A message was also recently sent to faculty, urging them to be especially accommodating this fall to students who are sick and not to penalize them for such absences by offering flexibility with assignments and exam schedules.
Staff and faculty have also been told not to come to work if they are sick and to return to work only when they are symptom-free for 24 hours without the benefit of medication.
Jonathan Links, deputy director of CEPAR, who was asked by Zeger to coordinate the university's flu response, said that the university is currently viewing H1N1 the same way as seasonal flu, which it takes very seriously.
"Right now H1N1 is acting like seasonal flu, so there is no need to have dramatically different policies and procedures," said Links, a professor and deputy chair of Environmental Health Sciences at the Bloomberg School of Public Health. "The cornerstone of the current plan is caution. We will try to maintain business as usual as best as we possibly can."
Links said that CEPAR, which coordinates the institutionswide response to a critical event, has been planning for a pandemic for several years and will continue to actively monitor the flu's spread and to interact with the CDC, the state Department of Health and Mental Hygiene, and the Baltimore City Health Department.
The university, Links said, remained in response mode throughout the summer as cases of H1N1 continued to pop up nationwide, including at Johns Hopkins University programs held at campuses throughout the country. Links said that particular precaution was taken with the Center for Talented Youth's many summer programs, including those held overseas.
Models put together by experts from the School of Public Health presently indicate that even if H1N1 is widespread this fall, the number of sick students, faculty and staff at any one time is likely to be relatively small, even if the cumulative number grows.
In the event that H1N1 virus mutates and becomes more dangerous, and even more lethal, however, the university may need to act more aggressively to prevent infection of students by suspending classes and closing residence and dining halls, Links said.
An H1N1 vaccine is coming but likely won't be available until mid-October at the earliest. The exact date will become clear only as testing is completed, manufacturing ramps up and national vaccination priorities are set. When it does become available, Johns Hopkins intends to provide the vaccine to students in traditional full-time programs, except those studying abroad or at other off-campus locations. H1N1 vaccination will also be offered to employees, as it is annually for seasonal flu. Since H1N1 and seasonal flu are different, students, faculty and staff should also get the regular seasonal flu vaccine.
In addition to the universitywide response, many divisions are sending out their own messages of prevention. At the Homewood schools and Peabody, officials informed parents and students about the flu plan during orientation.
Peabody also collected local emergency contact information from all residential students in the event that they have to find a safe haven if residence halls close.
The Peabody Crisis Management and Planning Committee has met regularly and is in close contact with CEPAR, as well as the Homewood Student Crisis Committee.
"We are all working collaboratively to make sure that everything is addressed, and that we can respond as effectively as we can," said Katsura Kurita, Peabody's associate dean for student affairs.
In the case of an H1N1 outbreak at SAIS, every attempt will be made to keep the school running if the virus's characteristics remain similar to those of seasonal flu. Should there be a school closure, SAIS has a "substantial" business continuity plan in place that addresses both the administrative and academic aspects of life there, according to George Petasis, chief information officer at SAIS.
SAIS faculty and staff have been tagged with such designations as "mission critical" and "mission essential" and have been ensured that certain operations will continue despite closure. The school has also built up its telecommuting capabilities so that sick staff members can adhere to JHU guidelines and remain at home to work or recover.
"We are also encouraging all SAIS faculty to make as much course material as possible available online to absent students, including course lectures, through the Sakai course management system and our library's Electronic Reserves System," Petasis said.
Gabor Kelen, director of CEPAR and chairman of the Department of Emergency Medicine in the School of Medicine, has said that people need to be reminded that we are in the midst of a global pandemic.
"Everyone needs to be engaged and should learn as much as they can about what they can do to avoid getting or spreading this virus and preparing for an intensification soon after the school season starts. Preparing or determining what to do after it hits will be too late," Kelen said.
For more information, go to flu.jhu.edu or www.flu.gov.