August 31, 2009
Tales of Poe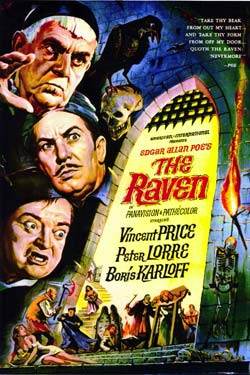 The elegant exterior of Evergreen's Gilded Age mansion will take on the gloomy characteristics common in Edgar Allan Poe's Gothic fiction at an outdoor screening on Friday, Sept. 4, of two tales from the original master of horror: The Tell-Tale Heart (1953), an Oscar-nominated animated short, and The Raven (1963), with Peter Lorre, Vincent Price and Boris Karloff as three aging wizards.
Evergreen Museum & Library and its grounds will open at 5:30 p.m., and the screenings begin at 7:30 p.m. (rain location: Carriage House).
Filmgoers are encouraged to arrive early and view the museum's first-floor rooms, rare illustrated editions of Poe from the Garrett Library and Modernism at Evergreen: Erno Fabry (1906–1984), the museum's current exhibition.
Classic movie fare will be available for purchase, and picnics, beach chairs and blankets are welcome, but visitors are asked to leave dogs at home. Parents are advised to consider the subject matter of films when bringing young children.
Poe in Motion is offered as part of Baltimore's Nevermore 2009 Edgar Allan Poe celebration. Tickets (which include museum admission) are $6, $3 children and students, free for members. They are available in advance at www.missiontix.com or at the gate (cash only).