September 7, 2009
A peach of a place
Everything's fresh and local at Farmers Market at Johns Hopkins
Everything's fresh and local at Farmers Market at Johns Hopkins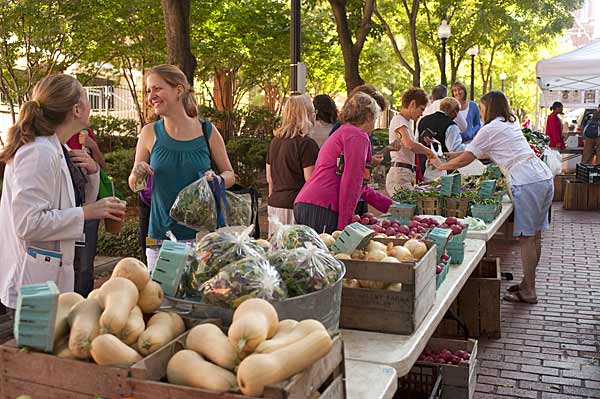 In the shadow of the iconic dome, a fresh and delicious Thursday tradition has taken hold on the East Baltimore campus.
Last Thursday, hundreds of Johns Hopkins staff, faculty, students, patients and community members took time out on a pleasant late summer day to stroll through the new Farmers Market at Johns Hopkins. Few left empty-handed.
Located on a tree-lined pathway adjacent to the Outpatient Center, the market hosts vendors of locally grown and produced fruits, vegetables, flowers, nuts, cheeses, jams, teas, confections, baked goods, pork, poultry, beef and more. The market, which launched on June 4, offers a bouquet of fresh items, from tomatoes and loaves of wheat bread, to wasabi peanuts and mango chutney. If the brilliant colors don't lure you in, the smell will.
Kelly Bower, an instructor in the Department of Community Public Health at the School of Nursing, could not resist a few large red bell peppers.
"They looked so good," said Bower, who had come to the market once before. "This market is fantastic. It's so nice to have one right here."
The market–one of only a handful in the city–is sponsored by the Johns Hopkins Hospital Green Team and supported by the schools of Medicine, Nursing and Public Health and the Kennedy Krieger Institute. Additional support comes from the Maryland Department of Agriculture and Maryland Hospitals for a Healthy Environment.
Co-founders Roneet Mallin and Shannon Gregor, both members of the JHH Green Team, wanted to find a way to bring healthy food options to campus, while also reducing Johns Hopkins' carbon footprint and supporting the local economy. All the vendors hail from Maryland.
(Click to see full-size)
Mallin said that it's all about convenience and healthy eating.
"At the end of the day, when people are exhausted from work, what is easier to do, drive through a fast food chain, or go to the store to wait in line and then get home and cook?" said Mallin, a home care coordinator for The Johns Hopkins Hospital. "Well, if they already had part of the shopping taken care of right here at our farmers market, they are more apt to go home and have a real and healthy meal. We are also doing this to show that we believe in what we are talking about: reducing our carbon footprint, bringing people health choices. Anyone can come here and get fresh, healthy and tasty food made or grown by local people."
Don't look for strawberries right now, however; all the food is seasonal.
"When we started, the produce stands only had a few items because less was growing then," Mallin said. "But now look at it– just about everything is growing. Later on, it will reduce again. We are teaching people to eat local and seasonal. Everything here is fresh."
The market is designed to offer all one would need for a full meal: from snacks, such as cheeses and nuts, to meat and vegetables, and desserts.
Mallin said that the response to the market has been "phenomenally fantastic." The crowds have been consistently large, and early on, the vendors, unprepared for heavy foot traffic, sold out in hours.
Libby Longendorf, manager for Zahradka's Farm in Essex, said that she's been going through two large truckloads of produce every Thursday. "The response to this has been incredible. The first week completely surprised us, the number of people," Longendorf said. "We're certainly happy to be here."
Longendorf staffed her stand solo the first week, but due to demand has since been joined by five other farm employees.
The East Baltimore farmers market is not Johns Hopkins' first. In 2008, Bayview Medical Center opened its own market, which operates from 10 a.m. to 2 p.m. on Wednesdays on the Hopkins Bayview Circle.
Last Friday, the 32nd Street Farmers Market moved to the Homewood campus's freshman quad for a day, due to the efforts of the Class of 2010. Affan Sheikh, class president, said that while it was considered a one-time event, the market could return to campus. "If it's extremely successful, I feel that the vendors of the farmers market will be more receptive to coming back to campus more often."
Mallin said that due to the East Baltimore market's initial success, it will likely be expanded somewhat next year with more vendors.
"This market has been wonderful. It's succeeded beyond your wildest dreams," she said. "Personally, I just love it when I see people walking in the hospital halls with items they bought at the market."
The Farmers Market at John Hopkins is open from 10 a.m. to 2 p.m. every Thursday through October (rain or shine).