October 19, 2009
Montgomery Co. students get an early immersion in research
Scooping cups of beans into a container may not seem like a scientific learning experience, but it is when you equate those beans with the investment needed to take a drug from discovery to commercialization.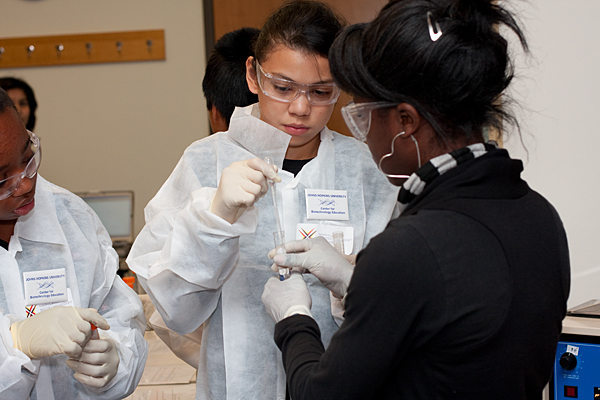 "So, how many beans will it take to commercialize your drug?" asked Lynn Johnson Langer, senior associate program chair of Advanced Biotechnology Studies in the Krieger School of Arts and Sciences' Advanced Academic Programs, as part of her "Biotech as Today's Business" activity.
The group of seventh-grade students from Shady Grove Middle School in Gaithersburg, Md., debated how many beans to scoop before settling on $1 billion worth of beans.
"One billion dollars?" asked Langer, once the students had piled up all those beans. "That's a lot of money."
The students stood by their answer.
Langer turned over a piece of cardboard with a value of … $1 billion.
"Congratulations!" Langer said, applauding the students and handing out chocolate gold coins, the students' "reward" for bringing their drug to market.
The learning experience in "bean counting"—which included a segment on just how long it took for that same process—was just one of many activities the group of almost 200 seventh-graders undertook on Oct. 9 during the first Frontiers in Science and Medicine Day at Shady Grove Life Sciences Center, where the JHU Montgomery County campus is located.
Frontiers in Science and Medicine was a collaborative event, spearheaded by Johns Hopkins Montgomery County and Shady Grove Adventist Hospital, that included participation from a dozen Montgomery County–based companies and organizations.
During the day, students spent an hour participating in hands-on activities, an hour on a "site tour" of a company or research organization's laboratory and 45 minutes engaged in small group discussions with scientists, doctors and nonscientific employees from local scientific organizations and companies.
"We hope that this opportunity to see science happening, and to interact with scientists, helped generate excitement about the vast career opportunities in science and medicine," said Elaine Amir, executive director of Johns Hopkins Montgomery County. "It's important that we foster interest in science and medicine now, at a young age."
In an interview that morning, Christopher Austin, director of the NIH Chemical Genomics Center, one of the participating organizations, said, "My children often come home from school and talk with me about what they did in science class that day, claiming it's not applicable in real life. Then I'll tell them how I did that same procedure or process during work that day and why I did it, and suddenly their attitude toward what they learned—and toward science—changes. That's what we hope we accomplished with Frontiers in Science and Medicine," he said.
While Langer's activity focused on the business side of science, representatives from Johns Hopkins' Biotechnology Program—along with representatives from MedImmune, the J. Craig Venter Institute, the NIH Chemical Genomics Center, Human Genome Sciences, OpGen, Montgomery College, Universities at Shady Grove and Shady Grove Adventist Hospital—provided a plethora of fun, engaging science- and medicine-based activities. Ranging from "The Science of Cells" and "Meet Your DNA," during which students made necklaces out of their own DNA, to "Know Your Bugs" and "Computers in Science," a bioinformatics lesson on sickle-cell anemia by Bob Lessick of Johns Hopkins, the events showed students the full range of scientific pursuits possible.
For those students less interested in science for its own sake, the day's activities included "Become a YouTube Superstar," during which representatives from the Tech Council of Maryland talked about creating science video podcasts; "Science Blogging," with reps from BIO; and a handful of engineering activities from Montgomery College and Johns Hopkins, including opportunities to program robots and to learn about prosthetic limbs.
During the on-site lab tours, students were given experiences ranging from looking at rat brains under microscopes at the Blanchette Rockefeller Neurosciences Institute and trying on clean suits at TissueGene to witnessing eye color changes in genetically modified mosquitos at the Center for Advanced Research in Biotechnology and watching the NIH Chemical Genomics Center's experimental screening robot in action. (The robot can perform more than 2.2 million experiments per day.)
Students also received a "lab notebook" that included questions for them to answer that would help them reflect on the day's activities and what they had learned.
"Whether they were learning about sequencing the human genome or about a cutting-edge surgical procedure, these students had an opportunity to see how classroom lessons are applied in real life," said Dennis Hansen, president of Shady Grove Adventist Hospital.