October 19, 2009
Studying welfare's treatment of single vs. married mothers
Robert Moffitt and his research partner will use a one-year $48,339 grant to study the factors in single mothers' decisions to stay single, cohabit or marry.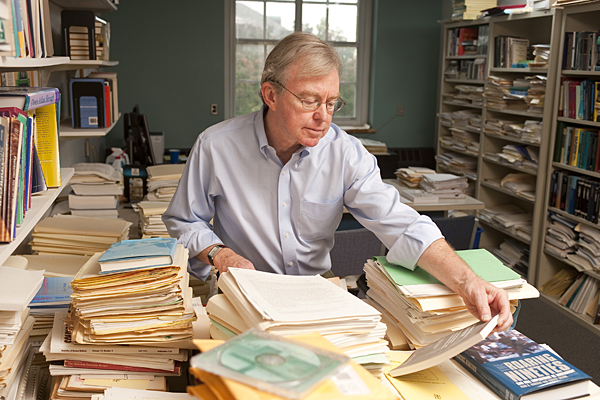 This is part of an occasional series on Johns Hopkins research funded by the American Recovery and Reinvestment Act of 2009. If you have a study you would like to be considered for inclusion, contact Lisa De Nike at lde@jhu.edu
Robert Moffitt, a Krieger-Eisenhower Professor in the School of Arts and Sciences' Department of Economics, and his research partner will use a one-year $48,339 grant from the National Institutes of Health to continue to study whether the U.S. welfare system's assistance based on marital status factors into single mothers' decisions to stay single, cohabit or marry.
The grant, underwritten by the federal stimulus package, will help Moffitt and Anne Winkler, a professor of economics and public policy administration at the University of Missouri, St. Louis, analyze data they gathered during a national telephone survey of welfare offices under a previous $10,000 grant from the Department of Health and Human Services.
The researchers aim to demystify welfare's complicated rules, which even Moffitt, who has spent his career studying labor economics and the welfare system, says he sometimes has trouble understanding. While most social scientists regard marriage as better for the children involved, individual states' welfare policies don't appear to support married parents, Moffitt says. In general, if a mother, a father and their children are living in the same house, regardless of the parents' marital status, the family won't be eligible for welfare because their income will almost always be too high. Yet, if the mother and children are living on their own, with family or are cohabiting with a partner who is not the father of the children, the mother and children would be eligible for welfare, even if they are also being financially supported by other adults in the house.
"The bad part is, you are telling the mother that if she brings in a man who is not the father of her children, it's OK, but if she brings in the father of her children, she'll be kicked off welfare," Moffitt said.
It gets even more complicated when caseworkers don't understand the rules, which are determined by states and not the federal government. So Moffitt and Winkler are also setting out to determine whether welfare caseworkers understand their own rules and what the consequences are for the people who need their help.
Moffitt's study is one of more than 300 stimulus-funded research grants totaling more than $148 million that Johns Hopkins has garnered since Congress passed the American Recovery and Revitalization Act of 2009 (informally known by the acronym ARRA), bestowing on the National Institutes of Health and the National Science Foundation $12.4 billion in extra money to underwrite research grants by September 2010. The stimulus package—which provided $550 billion in new spending, including the above grants, and $275 billion in tax relief—is part of President Barack Obama's plan to kick-start a stagnant economy by doling out dollars for transportation projects, infrastructure building, the development of new energy sources and job creation, and by financing research that will benefit humankind. ARRA grants received by Johns Hopkins affiliates have allowed for the creation to date of 63 jobs, 37 of which have been filled.
As they did with the first half of their research, Moffitt and Winkler will donate their time on the project, using the bulk of their grant to support one or two graduate students who will assist them.
"NIH is best-known for funding biomedical and life sciences research, but it also funds the behavioral sciences, particularly related to population issues, which is a very important piece of what the NIH does," Moffitt said. "It would be difficult for us to go on to the next phase of our research without this stimulus grant. We're very fortunate to get funding."