November 16, 2009
CEO of Life Technologies to give 'Leaders & Legends' talk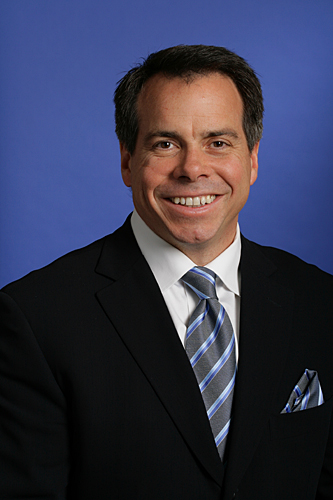 Gregory T. Lucier, chief executive officer of Life Technologies and chairman of the company's board of directors, will speak on the topic of "Building a 21st-Century Company" at the Johns Hopkins Carey Business School's Leaders & Legends lecture series at 7:30 a.m. on Wednesday, Nov. 18, at the Legg Mason Tower in Harbor East.
Lucier is a former chairman and CEO of Invitrogen Corp., which in 2008 merged with Applied Biosystems to form Life Technologies. The company is one of the largest providers of systems, biological reagents and related services, supplying life science technologies to scientists worldwide.
During Lucier's tenure at Invitrogen, the company was recognized four years in a row by the Life Science Industry Awards, which are given to leading life science suppliers. Invitrogen's Qubit platform, which in 2007 received the prestigious R&D 100 Award as one of the most technologically significant products of the year, was one of many company innovations recognized by the industry.
Lucier was named the North American Drug Discovery Technologies CEO of the Year in 2009 by Frost & Sullivan, which also named Life Technologies the Company of the Year. PharmaVOICE magazine recognized Lucier as one of 2007's 100 Most Inspiring People in the pharmaceutical and biotechnology industries, and in 2006 the Penn State College of Engineering presented him with its World-Class Engineer Alumni Award.
Under Lucier's guidance, Invitrogen developed a robust philanthropy program dedicated to science education and promoting scientific literacy. In 2008, the company formed the Invitrogen Foundation (now the Life Technologies Foundation), focused on promoting the critical role science plays in society.
From 2000 to 2003, Lucier was president and CEO of General Electric Medical Systems Information Technologies.
Lucier, who received his bachelor's degree in engineering from Pennsylvania State University and his MBA from Harvard Business School, serves on the boards of directors of the Biotechnology Industry Organization and the Burnham Institute for Medical Research. He is also a distinguished lecturer at San Diego State University.
The Leaders & Legends monthly breakfast series, which features today's most influential business and public policy leaders, is designed to engage business and community professionals in an examination of the most compelling issues and challenges facing society today.
Admission to the lecture, which includes breakfast, is $35. To register and for more information, go to carey.jhu.edu/leadersandlegends.