November 16, 2009
Hats off to our best Blue Jays
Athletic Center lobby begins transformation into JHU sports museum
The accomplishments of Johns Hopkins' student-athletes never looked so good.
Recent visitors to Homewood's Newton H. White Athletic Center would undoubtedly have noticed the attractive new displays in the building's lobby that commemorate the 114 members of Johns Hopkins' Athletic Hall of Fame and the university's 35 NCAA postgraduate scholarship recipients.
The elegant two-sided displays feature etched black Plexiglas plaques that appear to float on a clear Plexiglas sheet. The Hall of Fame plaques are engraved with images of a Johns Hopkins Blue Jay, the university seal, the name of the student-athlete and his or her sport(s), class and induction year.
The predominantly blue displays also feature fabric banners with images of JHU athletes in action.
The two 17-by-14-foot displays, which were installed late last month, were created by Marketechs Exhibit Design, based in York, Pa. Marketechs also created the Academic All-American Wall located in the hallway off the main lobby.
The displays are viewed as phase one of an effort to transform the building's lobby into a museum space, according to Mike Renwick, the university's associate director of athletics.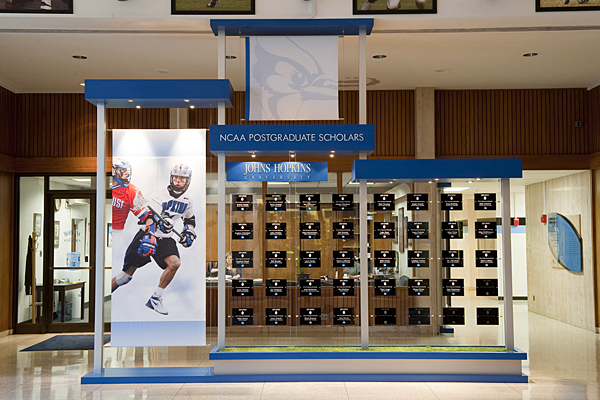 "We wanted to honor those who came before us and highlight the great tradition of Johns Hopkins athletics," Renwick said. "Everyone knows we have a really deep lacrosse tradition, but those who walk through the lobby now can see that we have a broad-based athletic program with excellence in many sports."
In phase two of the project, to be completed next summer, all of the existing wall display cases will be refurbished and seven new cases fashioned to prominently feature all the varsity sports. The cases will include photos, trophies, ribbons, historical facts and other elements. A centerpiece "champions case" will be created to highlight Johns Hopkins' current conference championship and national championship winners.
The existing Hall of Fame room will be renovated in the final phase of the project. It will become a student-athlete lounge. "We're going to spruce the room up and give it a more athletic feel," Renwick said.
The Johns Hopkins Athletic Hall of Fame was formed in 1994, and up to nine new members are inducted each year.
The prestigious NCAA Postgraduate Scholarship was created in 1964 to promote and encourage postgraduate education by rewarding the National Collegiate Athletic Association's most accomplished student-athletes. The NCAA awards up to 174 postgraduate scholarships—a one-time grant of $7,500 to pursue graduate studies—annually to student-athletes who excel academically and athletically and who are in their final year of intercollegiate athletics competition.
Johns Hopkins men's swimmer John Kegelman was the most recent recipient of the scholarship award. The mechanical engineering major, who received the award last May, had a 4.0 cumulative GPA and was a two-time captain for the men's swim team and earned All-America honors five times in his career.