February 15, 2010
'HeLa' book author to share story of immortal cancer cells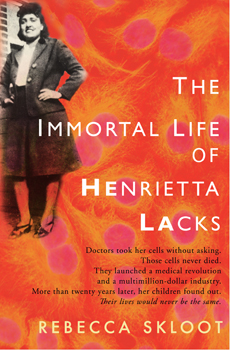 The cancer cell line that biomedical researchers refer to as "HeLa" is so named because it was derived from the cervical cancer of a woman whose first and last names began with those letters. And although Henrietta Lacks died of her disease nearly 60 years ago, the memory of this impoverished African-American woman lives on in the form of her undying cells, which have been used in experiments worldwide to advance understanding of many diseases, and to develop drugs and vaccines.
The story of Henrietta Lacks, what her life was like, the era she lived in, the struggles of her surviving children and the scientific legacy she unknowingly left behind have been painstakingly researched by science writer Rebecca Skloot in a new book, The Immortal Life of Henrietta Lacks, released earlier this month by Crown. Skloot will discuss her book during two talks hosted by Johns Hopkins University organizations.
The Writing Program of the Krieger School of Arts and Sciences' Advanced Academic Programs will sponsor a reading by the author and discussion of her writing craft at 7 p.m. on Friday, Feb. 19, in 210 Hodson Hall on the Homewood campus. Melissa Hendricks, an instructor in the AAP Writing Programs, says, "As a science writer, Skloot has the ability to explain the technical and medical aspects that underscore the importance of HeLa cells, but she also delves into the topic of race and how it played into issues of health care during pre-civil rights America."
A second reading and discussion will be hosted by the Johns Hopkins Urban Health Institute and Berman Institute of Bioethics at 6 p.m. on Monday, Feb. 22, at the St. Francis Academy Community Center, 501 E. Chase St. The second discussion will focus on the segregationist era in which Lacks lived and her cancer treatment at The Johns Hopkins Hospital, and will include participation by members of the Lacks family.
Both talks are free and open to members of public. No RSVP is required for the AAP Writing Programs talk, but those wishing to attend the Urban Health Institute discussion must RSVP at www.jhsph.edu/urbanhealth/events/skloot_form.html.
-Mary Spiro