March 29, 2010
Next artist in residence: An orchestra
Center for Africana Studies sponsors free performance by the American Studio Orchestra on April 3.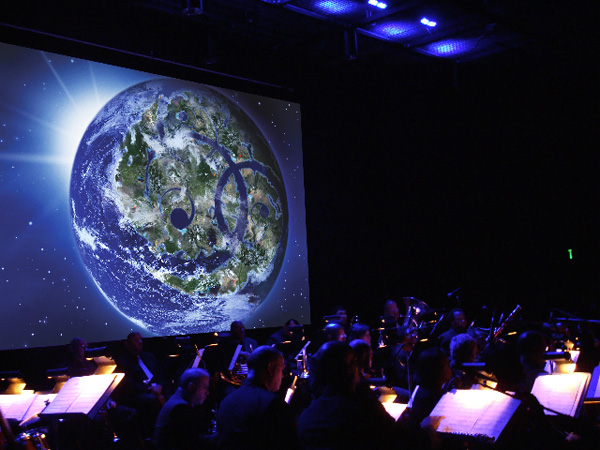 The Center for Africana Studies is continuing its artist in residence series with a free performance by the American Studio Orchestra at 7 p.m. on Saturday, April 3, in the Meyerhoff Auditorium at the Baltimore Museum of Art. In the first concert of its spring 2010 residency, the orchestra will perform "Pangea," described as "a multimedia celebration of the global human experience."
The program will feature award-winning film composer Jacob Yoffee's Synergy Suite, a multimedia work composed for the orchestra's inaugural performance in the artist in residence series. Also on the program is music by Astor Piazolla, Karl Jenkins and legendary film composer Ennio Morricone, and a presentation of original soundtrack music while showing three, short independent films: Words, written and directed by Max Strebel; New York Connection, written and directed by Rob Bianco; and Strangeland, written and directed by Harry Teitelman and Andrew Jerez.
As part of the concert, there will be a panel discussion with the orchestra's founder and artistic director, Larry Williams, who studied at the Peabody Conservatory; several members of the orchestra; Franklin Knight, interim director of the Center for Africana Studies; and Leslie King-Hammond, a Johns Hopkins alumna and chair of the artist in residence committee.
The concert will be presented without an intermission. Due to both limited available seating and the technical aspects of the show, seating will not be permitted once the performance begins. Guests are asked to arrive early to reserve seats.
The American Studio Orchestra is the third artist in residence that the Center for Africana Studies has brought to Homewood since spring 2009, when the series began with contemporary artist Renee Stout; photographer Hank Willis Thomas was on campus in fall 2009. Originally planned as a two-artist series, the program is continuing this spring due to the generosity of all those involved, including donor and alumna Christina Mattin; all three artists in residence; partners at the Baltimore Museum of Art, the Office of Student Affairs and the Digital Media Center; and the commitment and support of Paula Burger, dean of undergraduate education and vice provost.