April 26, 2010
Sculpture at Evergreen opens its summer run
Ten thought-provoking installations of temporary outdoor site-specific artwork have been created for the 26-acre grounds of Evergreen Museum & Library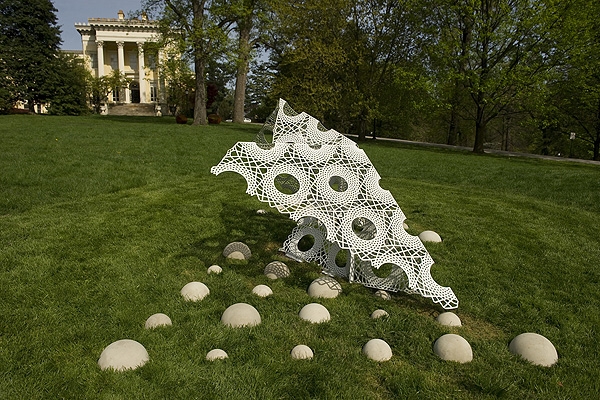 Ten thought-provoking installations of temporary outdoor site-specific artwork have been created for the 26-acre grounds of Evergreen Museum & Library as part of the exhibition Sculpture at Evergreen 6: Simultaneous Presence, opening with a public reception from 1 to 4 p.m. on Sunday, May 2.
Developed by individuals and teams of artists and architects from across the country, the interventions respond to Evergreen's 150-year history, diverse collections, and natural and architectural environments, and connect them to current civic, national and global concerns.

"Simultaneous Presence is an embedded conversation on the intertwining of moments, meanings and place," says Ronit Eisenbach, one of the show's two guest curators. Eisenbach is an associate professor of architecture and chair of the Kibel Gallery at the University of Maryland School of Architecture, Planning and Preservation.
Jennie Fleming, the other curator, is a Maryland-based artist, curator, educator and cultural historian who is currently working on her doctorate in the Media, Art and Text program at Virginia Commonwealth University. "The works invite reflection on convergent and contrasting interpretations of abundance and absence, sustenance and sustainability, fantasy and pleasure, wealth and its source, and the contrasting realities of Baltimore," she says.
Sculpture at Evergreen 6 continues through Sept. 26. Hours of the exhibition, which is free and open to the public, are 9 a.m. to 5 p.m. Tuesday through Friday and noon to 5 p.m. on Saturday and Sunday (gates locked promptly). Walking maps and a free illustrated visitor's guide are available in the Evergreen Museum & Library shop.