April 2, 2012
JHU artist in residence to perform at BMA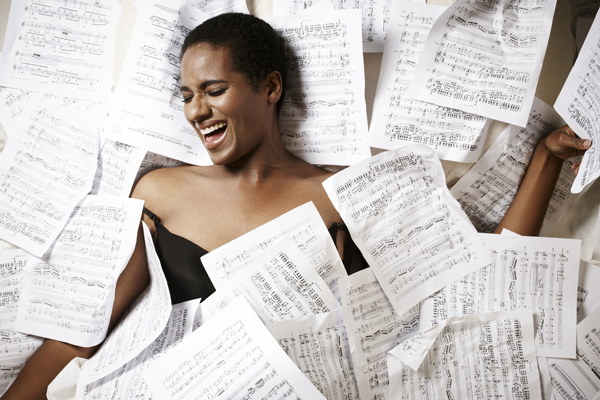 Mezzo-soprano Stephanie McGuire will present a free performance of her solo operatic theater piece, Mezzo Laid Bare, at 7 p.m. on Thursday, April 5, in the auditorium of the Baltimore Museum of Art. McGuire is visiting The Johns Hopkins University's Homewood campus this spring as the 2012 artist in residence with the Krieger School's Center for Africana Studies. In addition to this performance, on April 2 McGuire will offer a free master's class to students and staff on the Homewood campus.
Joining McGuire at the BMA will be pianist Noby Ishida and theater director Tamilla Woodard to present Mezzo Laid Bare, which has been described as an unorthodox and uncensored look into the world of classical performance and the struggle between an artist's public and private selves. The show, a mash-up of classical recital and downtown theater, weaves traditional recital repertoire, operatic arias and monologue into an intimate solo performance. (Language not suitable for children younger than 13.)
McGuire is a lyric mezzo-soprano who performs in a diverse range of venues that have included Lincoln Center, Carnegie Hall, Boston's Symphony Hall, Birdland and B.B. King Blues Club & Grill. She has performed with the New York City Opera and the Boston Pops, Boston Classical and Key West Symphony orchestras. Highlights of her 2011–12 season have included appearing as Ruggiero in Alcina with Satori Opera, Bradamante in Alcina with New York Lyric Opera Theater and Dritte Dame in Die Zauberflote with The Muses Project. McGuire holds a doctorate in psychoacoustics, which directly relates the physics of sound to the perception of that sound, from the University of Oxford.
McGuire is the Center for Africana Studies' fourth artist in residence; previous visitors were visual artist Renee Stout, photographer and multimedia artist Hank Willis Thomas and the American Studio Orchestra. The residencies came out of a 2006 gathering of Africana Studies faculty drawn from throughout the Krieger School. The idea was to bring to campus nationally known artists who could address the representation of race through imagery.
Seating for Mezzo Laid Bare begins at 6:30 p.m. The performance will be followed by a Q&A. To RSVP, contact Katie Cook at 410-516-5581 or kcook16@jhu.edu.