May 25, 2012
Hail our supergrads
President Daniels confers degrees on more than 7,500 graduates during the university's Commencement ceremony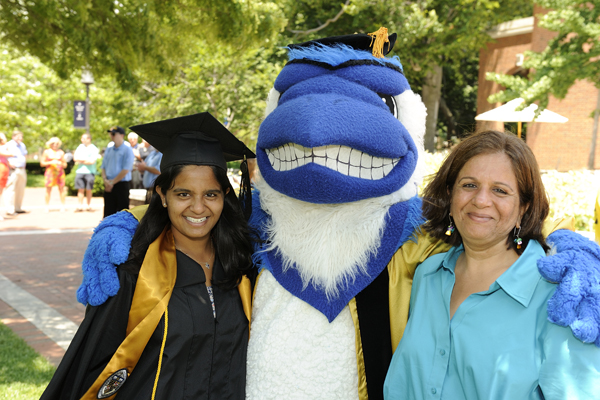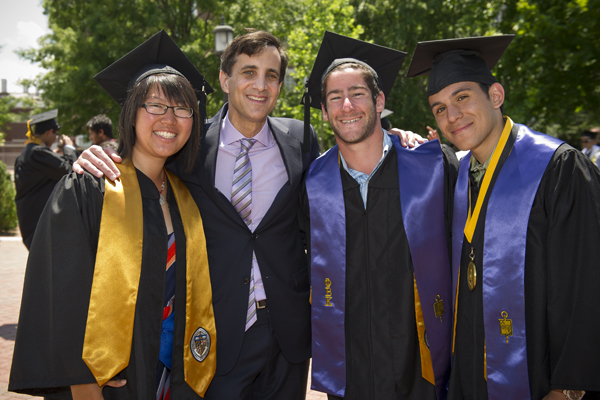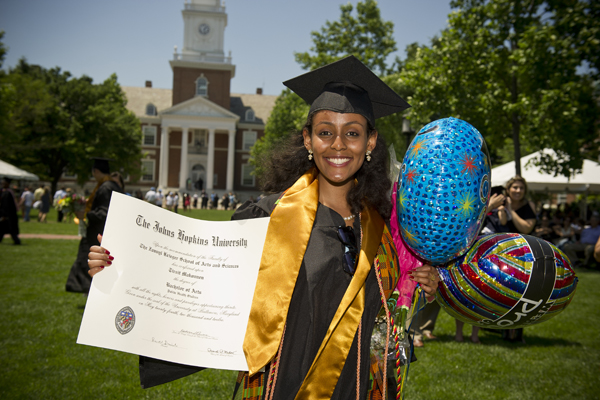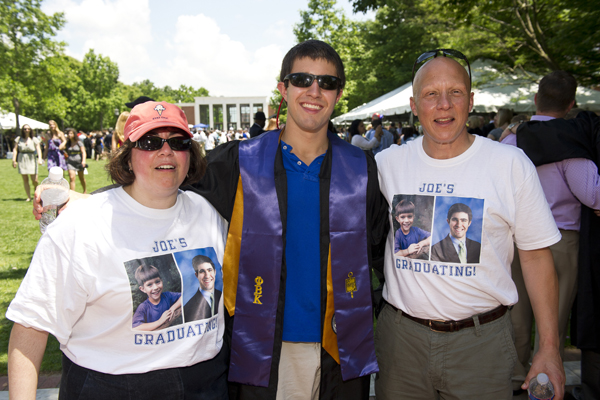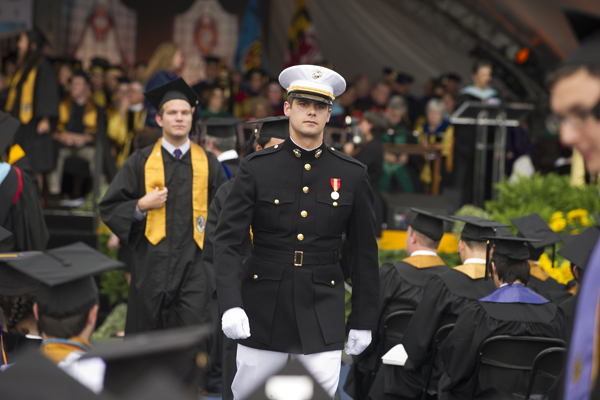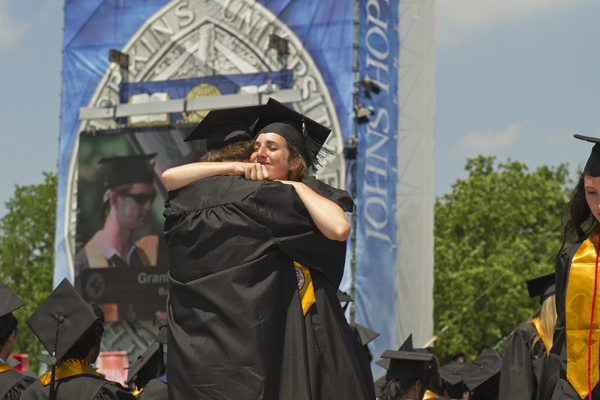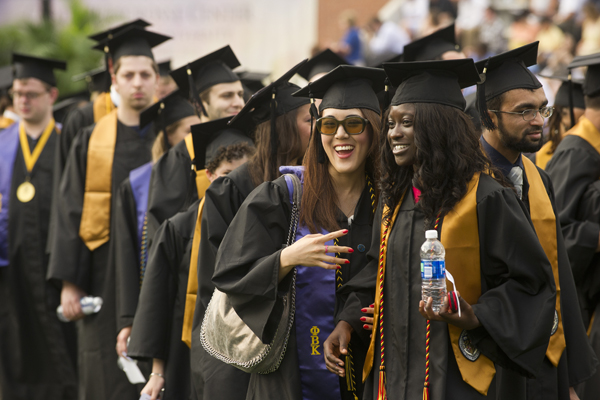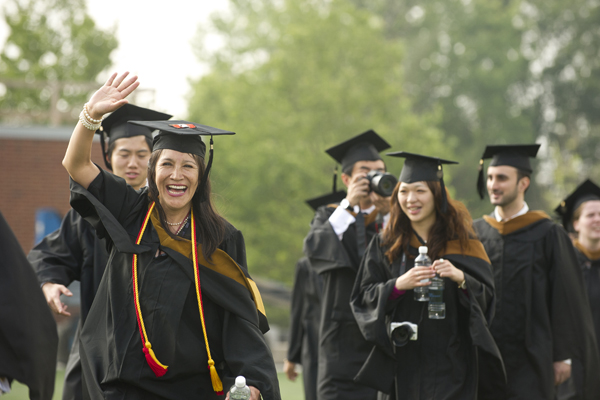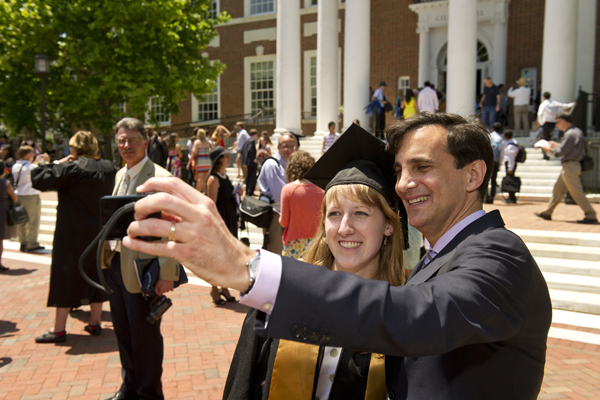 The Johns Hopkins University Commencement speakers evoked an optimistic spirit, superheroes and even pizza as they imparted words of wisdom, and humor, to the Class of 2012.
On a sunny spring day that had begun with threatening gray clouds, President Ronald J. Daniels conferred degrees on 7,529 graduates at the university's 136th Commencement ceremony marking the end of the university's 136th academic year.
Thousands filled Homewood Field seats for the Thursday morning ceremony that featured a raucous crowd of supporters. Many graduates—with summer clearly on their minds—wore sunglasses, sandals and shorts with their robes as they sat in the low-80s heat. Befitting the creative and talented group, many graduation caps were decorated this year, the embellishments ranging from flowers and a bedazzled "Thanks to Mom and Dad" to a Blue Jay perched on top. One student spelled out her next goal in life: "Future MD."
In a tradition begun in 2010, the undergraduates from the Krieger School of Arts and Sciences and the Whiting School of Engineering first gathered on the Keyser Quadrangle to take a ceremonial "final walk" across campus, passing through the Freshman Quad, where their academic journey started, to reach Homewood Field. They were joined on their walk by undergraduates from the Peabody Institute and the School of Nursing. All other degree candidates entered from the Athletic Center.
In his address, Daniels joked with the graduates about the trauma of leaving Johns Hopkins, and then wove into his talk two summer blockbusters: The Hunger Games and The Avengers.
In each film, the main characters face grave odds and a path filled with peril as they strive toward their goal. In The Hunger Games, young people are pitted against each other. In The Avengers, a group of superhumans must come together and unite their powers for the good of society, and to literally save mankind. Daniels told the graduates that like these fictional heroes, they must choose the "us" over the "I" and face humanity's great challenges together.
"I like to think that over the past four years you've come to regard Johns Hopkins as a place where avengers thrive, where the 'us' triumphs over the 'I.' Johns Hopkins is a place where we harness the gifts of our students and faculty, uniting our efforts in the service of our neighborhoods, our nation and our world," he said. "But the power of the collective is not an idea that is limited to your time at our university. It is an ethos you will carry with you."
Later in his remarks, Daniels issued a charge to the Class of 2012.
"Tomorrow, your work begins anew," he said. "Tomorrow, we place the challenges of our society squarely on your shoulders. And you're going to have to make that choice, 'I' or 'us.'"
Lucas Sand, senior class president, elicited waves of laughter and smiles with his forceful, direct and often deadpan speech to his fellow classmates and their gathered family and friends. He began by photographing the crowd with his camera phone, offering to "tag" anyone on Facebook or tweet them a pic later.
He then praised the work of his fellow senior class leaders, and thanked his family, friends and pizza.
"Without those three things, I wouldn't be here today," he said to rounds of laughter. "My family has worked hard every day so that I could have whatever it is I want, only for me to graduate and not know what my desires are. Thank you Mom and Dad for your patience, support and money for pizza."
He followed with a gravelly voiced rendition of Vitamin C's Graduation song before striking a somewhat serious tone. "Let's give another round of applause to the Class of 2012. Congratulations to everyone."
Sand then introduced the main Commencement speaker, Samuel J. Palmisano, chairman of the board of IBM, a 1973 graduate of Johns Hopkins and a former university trustee.
Palmisano, who was awarded an honorary degree during the ceremony, started off by telling those gathered how, "like my friend Luke [Sand]," he didn't have a clear sense of direction at age 22, but he followed his heart and mind. In his case, he was working construction when a friend told him about a recruiter from IBM coming to campus—in search of women engineers.
"I told him I didn't know if I'd fit," he joked. "But I thought figures were better than digging ditches, so I applied and got the job." He would go on to a 40-year career with the global IT giant, rising to the top rung of leadership.
Palmisano brought up the challenges that lay before the current generation in terms of a tepid economic environment, unemployment and global conflicts.
Yet, despite these challenges, he told the graduates, a new golden age of economic growth, scientific discovery and social progress approaches. In this data-driven information age, he said, success will go to the bold who want to remake the world for the better.
"I think the most powerful asset that you acquired at Johns Hopkins goes beyond skill and expertise; it is the impulse and power to seize the moment," he said.
He ended his talk with a piece of advice for the graduates.
"Don't limit your options," he said. "Do not constrain yourself. Reach out and go for it."
Also awarded honorary degrees on Thursday were Rita R. Colwell, an environmental microbiologist and worldwide leader in the fight to provide safe drinking water; Stephen H. Lewis, a Canadian diplomat, politician, broadcaster and academic dedicated to humanitarian service; John C. Malone, chair of Liberty Media and of LibertyGlobal, which provides broadband distribution and video programming in Europe, Latin America and Australia; Amartya Sen, an economist celebrated for his trailblazing studies of social choice, welfare measurement and poverty; and Daw Aung San Suu Kyi, revered around the world for her peaceful fight for democracy in Burma. In an unusual move, Aung San Suu Kyi's degree was presented in absentia, and she accepted it in a video message.
Following the ceremony, graduates and families found each other—thousands of them at the President's Reception on the Keyser Quadrangle—to exchange hugs, tears and high-fives.
The graduates expressed mixed emotions of realizing that one journey ends and a new one begins.
Cynthia Idada was greeted after the ceremony by her large family contingent, all wearing T-shirts with her picture and words of congratulations on them. Idada, a public health studies major, said that the moment was a bit overwhelming.
"I couldn't have done it without my family. Going through all the trials that I went through at Johns Hopkins, it's really important to have my family here," she said. "I can't believe it's over, but I'm excited because I'll be here next year doing something different. I'm going to be a grad assistant with the [Office of Residential Life] and trying to get my master's in environmental health sciences at the School of Public Health. So, a new chapter begins."
A new chapter for the entire Class of 2012 awaits.